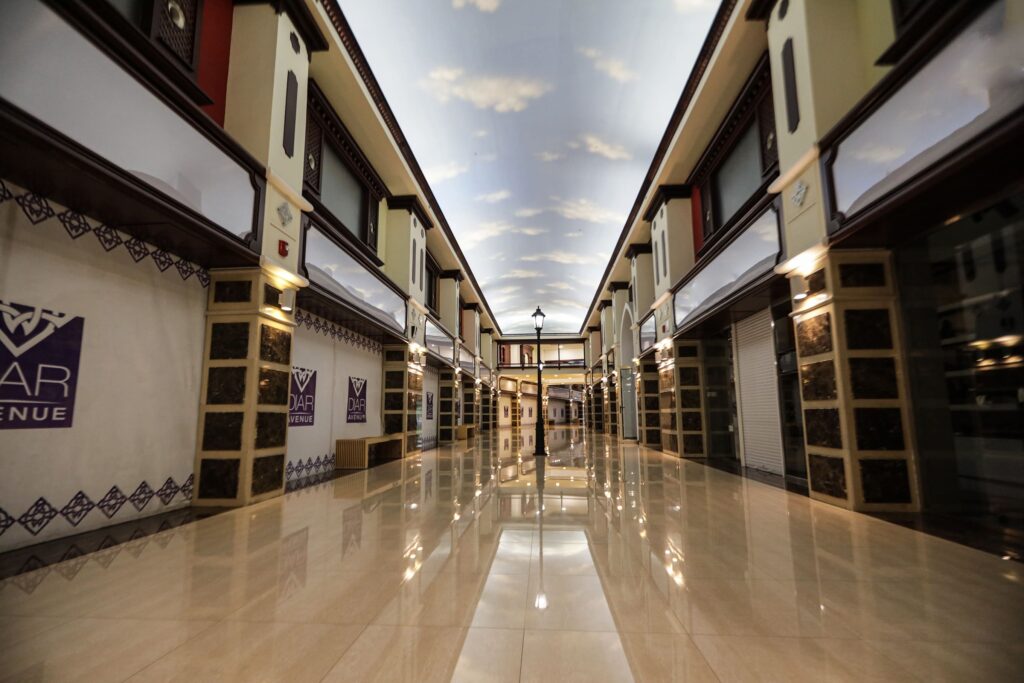 Trade center
High-quality retail space – only in Diar Dushanbe…
Retail
The concept of the retail area is based on a BAZAR/ SUKH, Street. The idea is to create an ambience of shopping under a clear blue sky on a pleasant bright day. A perfect outdoor experience indoors throughout the year. To achieve this, the main emphasis is on a street ceiling printed with a blue sky print. Hidden, bounced (ambient lighting), a perfect cobbled stone street with sandstone cladded building around, arches, Mashrabiyah and balconies to complete the theme and also integrate with the fascia of main building.
Features
High quality retail space, exclusively at Diar Dushanbe.
General Build Specifications
International Construction Standards.
Hardened glass store front
Building Management System.
Uninterruptable Power Supply.
Fire Alarm and Sprinkler System.
All internal doors are fire rated.
Separate Electricity meter.
Retail Environment.
Hardwearing marble flooring
Energy saving lighting.
Cafe and Resutaurant units
Cold water supply
Separate water meter
One passenger lift, one dumb waiter (restaurant)
Communications
Uninterrupted power supply to server rooms.
Emergency lighting.
Car Park
Secure multi-level subterranean parking.
Parking Management System.
CCTV 24/7 operation.
Vehicle entry is by remote key fob.
Car park has access to mall.
Loading bay
Separate bay for each unit.
Exterior
Well defined and organized landscaped area with fountain, performance stages and seating area
Terrace garden for outdoor seating at first floor level.
Security
24/7 Mall security.
PIN code access to unit rear doors.
Closed Circuit Television (CCTV) System.
Night security patrols.